So you've made it to Leviathan Extreme Mode, eh? This is an extremely fun fight that starts with lame music (but makes it up later)! Let our epic guide help you out beating Whorleater Extreme!
Navigation:
Page 1 – Abilities & Adds | Page 2 – Phases, Tips & Loot
Spinning Dive & Body Slam | Adds | Minor Abilities | Briny Mirror
Leviathan Extreme Mode Abilities
As we mentioned above, discussing Levi EX by phase can be a bit confusing. So instead, understanding his abilities first is more important. These two abilities are the most important in the fight, and you'll be seeing them often –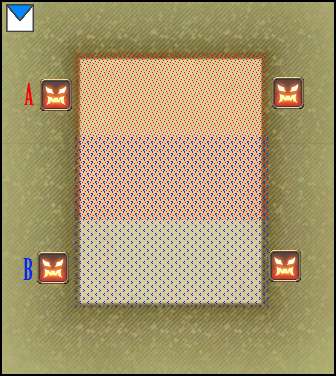 Body Slam, often followed by "Oh Sh*t"
Leviathan emerges from the water, (signaled by a "geyser" animation), and slams the platform with his body, pulling everyone toward that side. If you're too near him, you take heavy damage – and may fall off the platform resulting in instant KO (when the railings are down). Basically, run to the opposite end to where he spawns. Check this out:
Body Slam Dodging Tips: Look at one side only. If you do not see the geyser – run forward! It only means it's behind you. Using headphones also helps! If he spawns in A – run to B! If he spawns in B – run to A!
It's quite easy to dodge, honestly, but panic and or complacency can get the best of us! Just remember in the later phases – this means instant Death. So get used to it quick!
Leviathans "Divebomb" (Spinning Dive)
(See diagram on right) This may be extremely disheartening at first for newer players, but after you get used to it, it's a piece of cake! This ability is popularly called Divebomb, after Twintanias skill.
The "starting point" of Spinning Dive is, like body slam, marked by a geyser. It will travel all the way across the platform following the lines (the black lines in the diagram). These divebombs are pretty thick. The blue area signifies this. The "Vertical" spinning dives take up exactly 50% of the map, while the "Horizontal" ones take up 33%
To make matters worse, These water balls fall from the sky on random raidmembers before each Spiral Dive. It does significant damage and a slow.
This skill has some quirks, though. If he begins his Divebomb on the North Side (Vertical), the next Divebomb will start from the South (Could be Vertical of Horizontal). Horizontal Divebombs are trickier, though. He will also always begin his dive from the side he was tanked at.
The Horizontal divebombs are a bit messier. Of the three possible horizontal setups, the middle one happens most often. The horizontal divebombs do not seem to follow a strict rule (or they are too rare for me to have observed patterns; please chime in on the comments if you have info)
This skill is often followed by "Oh Sh*t", excuses or both.
Adds – "The Fat & Thins"
Leviathan spawns two kinds of adds (that fight back). In our FC we call them the Fat, and the Thins.
Thin adds (Wavespine Sahagin)
There are many strategies as to which tank pulls which add. One pulls both is fine, or one each is also fine – really depends on what you guys are used to, and what your composition looks like.
After a certain time – they cast a skill called Hydroshot, leaving a circular AoE on the ground. If stepped on, you get a MASSIVE water DoT! (Is it Esunable? We haven't got hit by this in a while)
The Fat (Wavetooth Sahagin)
Have a tank pick this one up (Usually the tail tank). If you're the tank remember this – After the fat casts his 3rd skill, start chain stunning. Kind of like DK's in T5. This can be hard if you have two warriors.
You see, this guy gets very pissed off after three skills. He casts one of two things, both with extremely unfavorable results. Dreadstorm leaves a circle on the ground, that if stepped on, causes you to run around in fear for 9323478 seconds, and you can step on it again while feared. If the railings are down, this can cause you to walk off. Dreadwash is a medium AoE shout that fears you for roughly 9323478 seconds, If the railings are down, this can cause you to walk off. Yes I copy-pasted that.
This add is often followed by "Oh Sh*t", then "Where's the Stun!?".
As a desperate measure, these things can be stopped by the WHM Fluid Aura or SMN Garuda Push. (Or at least we imagined it to be so, when it happened once; again chime in on comments if confirmed / busted)
Levi Ex Minor Abilities
Majority of the fight, the two tanks split up tanking the Head and Tail. Each end has it's own abilities.
Leviathan Head Skills
Leviathans head reflects ranged physical damage, and cannot be back attacked – so Magic DPS should target this.
Dread Tide – A line attack that comes from the head. Hits fairly hard, about 3000 damage on a tank. Main tank should position himself away from the raid, especially during adds phases. He usually does this after 3 basic attacks or around every 25 seconds.
Tidal Roar – Raid wide magic damage. Insignificant in the early stages – massive later on. Can be Virused or Dragon Kicked to help reduce it a bit.
Water Spout – An AOE attack originating from both healers. Make sure to split up.
Leviathan Tail Skills
Leviathans tail  reflects magic damage, and is always a flank/back attack – so Melee DPS & Bards should target this.
Scale Darts – A single target attack that comes from the tail. Hits a tank for about 1500 damage.
Tail Swipe – A frontal cone attack that comes from the tail. The damage is shared among all targets hit. Ranged guys make sure to get out of this.
Briny Mirror – look below :)
Briny Mirror – How to deal with it
A Debuff that is applied to whoever has top emnity on the tail of Leviathan when it appears (usually tanks). Briny Mirror is an annoying debuff that applies a stack each time you heal the person who has it. Each stack reduces healing range. Upon reaching 16 stacks – the healer is stunned for a significant time!
You can "cheat" Briny Mirror by doing the following things:
WHM Stoneskin doesn't give stacks.
REGEN and its ticks don't give stacks.
EOS/SELENE ignore this mechanic.
So yeah, have your pet near Tail tank, have your WHM seal+regen & SS the guy. You can further make your life easier by using things like Eye for an Eye, Storms Path etc etc…
Stacks are, at times, unavoidable. If you have to get one don't be too stressed about it. Medica / Succor will likely get you one. But dont sweat it – if you manage your heals well, you'll never reach the dreaded 16 stacks, or even get close to it. After the Divebomb / Slap phase, make sure you be extra careful in waiting for existing stacks to fall off before you AoE heal again. (Or simply position so you wont hit the guy).
That's it for Page 1. Understand these mechanics first of all! Page 2 has what we know of Levi's Phase Transitions.
Follow us on
Facebook
for more FFXIV updates!
Navigation:
Page 1 – Abilities & Adds | Page 2 – Phases, Tips & Loot
Spinning Dive & Body Slam | Adds | Minor Abilities | Briny Mirror