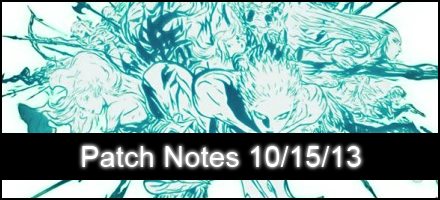 [Date & Time]
Oct. 14, 2013 from 8:00 p.m. to Oct. 15, 2013 2:00 a.m. (PDT)
[Affected Service]
FINAL FANTASY XIV: A Realm Reborn
[Update Details]
The following features have been implemented:
2.05 also contains a bunch of hotfixes and bug fixes, and quality of life issues, here's what we know so far:
More ways to get Allagan Tomestones of Philosophy & Mythology.

Wow, this is great. No more grinding AK, a bit of variety is always good! Naturally our guide will be updated once we get to see what's up.

Level 50 Dungeons difficulty adjusted.

Presumably more difficult, and some mention of rewards for killing trash.. ?

adding more servers and enhancements to counter the congestion to enter "Amdapor Keep."

Hopefully the above fixes all contribute to this!

Increased experience from farming Botany Nodes and Mining Nodes. and their respective Fieldcraft Levequests.

Thank god. This mindless grind was in need of change. Fishing remains the same, people have mixed responses about that…

Diremite and Karakul spawn and drop rates adjusted up.
Anti-FATE lagging measures (population caps, rendering issues) being "addressed"

Dunno how effective this will be, but a welcome addition! This was implemented on Oct. 11, though.
All in all, patch 2.05 fixes alot of issues for us players, and hopefully makes Eorzea a little funner for all of us. The changes to end-game tome farming were much needed. Grinding AK for mythology became boring FAST, hopefully they come up with some creative ways to bring variety into it. I have to say, I'm quite excited for this one!
They also released a teaser for PvP today:
[New Tab] PvP Video Teaser: The Wolves Den
Check it out! The FFXIVGuild team is extremely excited for PvP and hopefully you are too!
Reference, Links, Additional Info
Official post about FFXIV patch 2.05
World Transfers
All Saint's Wake "Halloween" event
Cactaur and Bomb Earring Vendors Added
Remember to like us on Facebook and subscribe to us on YouTube for more updates! Thank You!