What are Allagan Tomestones?
Allagan Tomestones are an end-game currency you get from various duties (Dungeons/Trials) which you can use to buy end game equipment. There are two types of Allagan Tomestones (Philosophy and Mythology). The Allagan Tomestones of Philosophy are easier to obtain than the Mythology (see our list of where to get Tomestones below)
How many Allagan Tomestones can you carry? What is the cap for Allagan Tomestones?
These are questions that get asked a lot, the simple answer is you can can carry up to 2,000 of each, for Mythology though there is a 300 450 a week cap (changed in 2.1). To view this cap simply go to your Character menu and click on 'Currency'. The Tomestones on top are the Philosophy, the ones on the bottom are Mythology

Where can I use Allagan Tomestones? What can I buy from Allagan Tomestones?
In Mor Dhona (Revenants Toll) there is an NPC 'Auriana' near the Aetheryte. This is where you can spend your Allagan Tomestones, all the armor here is higher quality than that of the story quest. Also important to note that if you are doing your 'A Relic Reborn' quest, you will need to purchase a 'Bottle of Radz-at-Han Quenching oil' for 900 Allagan Tomestones of Philosophy after defeating Titan Hard.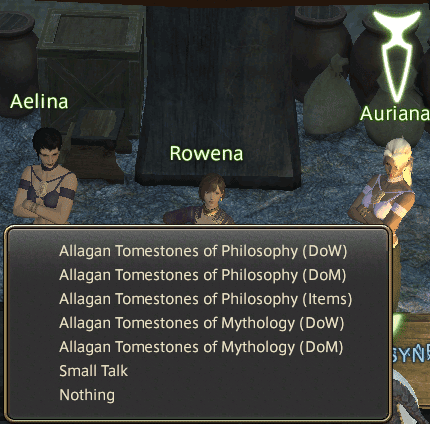 Where do you get Allagan Tomestones of Philosophy / Mythology?
Here is what we have so far, if you know of any other sources, please note down in the comments!
Place
Tome of Philosophy
Tome of Mythology
Duty Roulette
Low level dungeons - 100
Main Scenario - 100
Low level dungeon - 10
High level dungeon - 40
Must be level 50 to receive tomestones
If you are not level 50 you receive GC currency instead
Award is only received once per day
DUNGEONS
Castrum Meridianum
100
-
The Praetorium
100
-
Amdapor Keep
100
30
The Wanders Palace
100
30
Copperbell Mines (Hard)
100
50
Haukke Manor (Hard)
100
50
Pharos Siruis
100
50
Crystal Tower
200
50
The Binding Coil of Bahamut
-
50 (Myth only drops for Turn 1,2,4,5)
PRIMALS
Ifrit (Hard)
10
4
Garuda (Hard)
15
7
Titan (Hard)
20
15
Ultima's Bane
20
17
King Moggle Mog
15
12
Garuda (Extreme)
25
19
Titan (Extreme)
25
22
Ifrit (Extreme)
25
25
OTHER
Beast Tribe Daily
0,5,10,15
0,3
Timeworn Leather Map
?
?
Timeworn Goatskin Map
?
?
Timeworn Toadskin Map
?
?
Timeworn Boarskin Map
?
?
Timeworn Peisteskin Map
?
?
What is Darklight Armor / Relic+1 Armor / End Game Armor?
Here is the known tier system for equipment right now:
Story Quest / Grand Company / Crafted gear
Darklight: buy using Allagan Tomestones of Philosophy
Primal Weapons (Hardmode) from Titan (item level 80) > Garuda (item level 70) > Ifrit (item level 60)
Relic Weapon: from quest chain 'A Relic Reborn'
Relic+1: buy using Allagan Tomestones of Mythology
Allagan: drops from the Binding Coil of Bahamut
Allagan Weapon (i95): drops from turn 5 of the Binding Coil of Bahamut