Hi guys! Get HYPED for HEAVENSWARD, the first official expansion of FFXIV! Heavensward (or FFXIV 3.0 Patch) has a veritable CHUNK of content. Let's see what's goin on in Heavensward! Forgive me for the long load time, there's a chunky amount of info and images here! (will be constantly updated until launch)
Heavensward (FFXIV 3.0)
Trailer & Basic Info | Level 60 | New Areas |
| New Jobs | New Race | Airships & Flying Mounts |
| Trials: Alexander, primals | DoH & DoL | Useful Resources
Official Heavensward Trailers(s)
Heavensward: Basic Information
FFXIV Patch 3.0 "Heavensward" will be released in June 23 2015.
If you pre-ordered Heavensward, you will be able to play in Heavensward Early Access: June 19 2015
Level cap raised to 60. Meaning new skills and traits for all classes and jobs
Being an expsansion pack, it must be purchased. Where to buy Heavensward?
You can test how you run Heavensward with the: Heavensward Benchmark Tool.
Level Cap Raised to 60! And everything that goes with it!
FFXIV's level cap is raised to 60 from 50. What does this mean for us?
New gear (as seen here in this 3.0 gear preview)
New skills and traits! and cross-class skills too!
A new RELIC WEAPON! (yey? ugh?)

Yoshida mentions that our 2.0 relic will be relevant (at least in the early phase I speculate)
If you're late to the party, or worrying to much about gearing for 3.0 – don't sweat it. Gear obtained in 2.5+ will likely be of no real use come 3.0! ((Back to Top))
Massive New areas, and all things that entail!
So with the level cap increased, that means we will be having new areas to come along with it! This means a lot more than you might first think:
Specifically mentioned "Exploration on the scale of launch" meaning HUGE new areas!
New FATES, enemies, levequests, hunting logs, side quests…
Multiple new dungeons (more than 4 estimated)
The Foundation | The Pillars

Dravinian Forelands | Dravinian Hinterlands

Coerthas Western Highlands

The Churning Mists | The Sea of Clouds

And yes, some of those picstures do indeed have FLYING MOUNTS. These areas can be seen thru video @ Heavensward: Tour of the North. Again they say the new areas will be MASSIVE! And judging from these screens and vid, they look great. ((Back to Top))
3 New jobs in Heavensward

Dark Knight – Tank class that uses a 2-handed greatsword, supposedly does magical damage.
Vids & other previews:
Astrologer – Healer that uses a 'celestial deck', not much is known about this class but they seem awesome.
Vids & other previews:
Machinist – Ranged DPS that has little machine summons.
Vids & other previews:
Supposedly you only need level 30 of any base class to unlock these. My guess is they start at level 50 (purely speculation on the latter). ((Back to Top))
New race: The Au Ra

The Au Ra are horned humanoids that we can assume have some relation to dragons (purely speculation). As I learn more about the lore about these guys, I'll update! Please comment if you know anything. ((Back to Top))
Free Company Airships
Airships can now be built and used by Free Companies! What does this mean? Well the team has a bunch of stuff planned for Airships in 3.0, but not all of it might be implemented ASAP. Here are some of the features regarding FC(personal?) Airships:
Airships are built and or improved via Free Company Crafting. (Yeahp)
Each FC may own up to four Airships (Each consisting of 4 parts that make up its visual design and function)
On release Airships can be sent on 'ventures' to explore the vast Sky Islands. They increase in rank as you do this.
Airships can bring back rare items from these ventures.
In a later update: players may join these 'air raids' to find various islands with random properties.

Islands containing 'Notorious monsters'
Islands containing rare gathering nodes
and, quoting SE, "We have a lot of ideas for these".
Flying mounts are also coming if in case you missed that by now, haha. Aside from personal travel, not much else is known for their uses. ((Back to Top))
New Raid: Alexander! New (and Old?) Primals!
Primals in Heavensward

Many Primals will be part of the 3.0 storyline, and our trials. Older players would recognize Bismarck. An all new primal making it's debut in FFXIV is also coming: Ravana. Of course, what are primals without BEAST TRIBES? Of course, 2 new beast tribes will be making their debut here in Heavensward as well. The Gnath and the Vanu Vanu.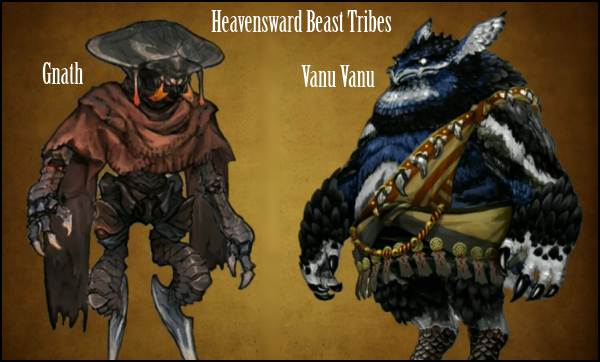 While they say Beastman quests might not be out for 3.0 straight away, they will definitely show up sooner or later. Of course, 3.0's Primals and Beastmen are not limited by the two above, and we will likely see many old faces. ((Back to Top))
Alexander: Heavensward Raid

Much like the Binding Coils of Bahamut, we assume 3.0's entirety of raiding will take place in and around Alexander. Older players will recognize Alexander as a "primal". He's most known for his recent appearance in FFXIII series as the 'summon' of Hope Estheim. His elemental affinity in most FF games is Holy – and for the old school guys – would remember his epic battle versus Bahamut in FF9. His appearance in every FF aside from 13 is that of a FULL SIZED CASTLE.
3.0 will be the first patch wherein raiding is split into EASY and HARD mode. Easy mode is meant for more casual players to traverse through coil, while Hard Mode will yield the highest item level, and will be the main focus of progression raiding. How the loot/lockout/unlocking of these modes is still a mystery to us.
Well, what exactly his significance is in 3.0 is yet to be known, but surely I'll be spending a lot of time in there. While many hardcore raiders like me are left with a ton of unanswered questions about progression, we are definitely happy nonetheless! ((Back to Top))
Changes in Crafting / Gathering?
Crafting in Heavensward
Crafting is getting new recipes, obviously. Mentioned above, there will be "company crafting" which caters to Airships and Housing Items. They said that houses can now be "Glamoured". In any case the biggest news in crafting will be the introduction of specializations. Specializations will make it such that no one guy can craft everything. 
Oh, and crafters will be getting a brand new "AF" look, check out how DoH AF looks like in 3.0.
Gathering in Heavensward
Of course, new nodes will be appearing in 3.0+, but aside from that there seems to be no news regarding any major changes to gathering. If anything at least (like crafters) Gatherers get a brand new AF look in Heavensward.
I'm a a fan of crafting and hope they really expand on it. Gathering on the other hand…. well I hope they have some great plans for it come 3.0 :)
((Back to Top))
New player? Need help? Old player, need advice?
For new players: I specifically created a leveling up guide that will serve your needs till the foreseeable future: Leveling general guide. I would suggest any vet to read this too, you might learn something.
For old players: You can check out my ever-growing compilation of ways to prepare for Heavensward. Newer players should also check this out just in case.
Heavensward Resources
Heavensward: Official Trailer: SE's first 3.0 trailer.
Heavesnward – Tour of the North: Official SE vid showing various maps. Seriously.. the soundtrack…
Reddit post detailing 3.0 in PAX East: translated 'notes' regarding 3.0
Heavensward Benchmark Tool: see how your rig runs 3.0
Preparing for Heavensward: Our little guide on what you can do NOW to affect your gameplay in 3.0
and again in case you haven't already:
Please comment or add whatever else you may find out about Heavensward! Good luck for 3.0 and beyond!
Follow us on Facebook for more FFXIV updates!