Ah, if you thought Titan Hard Mode was difficult, this guy will "WELCOME" you to coils! While the mechanics of Caduceus are very simple – positioning and overall strategy are the key to defeating him!
Caduceus Video Guide
Abilities
First, let's discuss the abilities you're going to see from caduceus. Note that he does not gain or lose abilities throughout the fight.
Basic Attack – Caduceus' Basic attack is a (seemingly) 180 degree frontal cone. Only the tanks should ever be hit by this.
Hood Swing – Extreme Damage Frontal Cone.
Whip Back – (aka Tail Swipe) Exactly as it sounds. A devastating back facing cone AoE.
Acid Slime Spit – Spits at random raid member and leaves a green floor effect that does DoT and Heavy.
The next three mechanics are the "core" to Caduceus' fight.
Steelscales – Buff that increases damage but can be "cleaned" by feeding him a Dark Matter Slime. Feeding Caduceus a slime will heal him depending on the percent life remaining on the slime.
Glowing Floor Tiles – Spawns Dark Matter Slime (From here on referred to as "Slime") on whoever is standing on one at the end of the glow duration.
Dark Matter Slimes – Will explode if they are too far from whoever spawned them. Instantly killing anyone in a huge AoE. They pack a surprising punch, and can be a problem when the spawner gets hit by a random acid spit.
General Strategy
Caduceus's fight revolves around managing stacks of Steel Scales. He gains a stack roughly every 45 seconds. To remove stacks you must "feed" Caduceus a slime by first spawning one (Standing on a glowing tile), then bringing it near him. As mentioned above Caduceus heals himself whenever he eats a slime, so make sure the slime is at the smallest possible health before feeding it to him.
"These platforms seem random!? How can we predict which tiles glow?
Relax – we have an image for that.
The colors represent the possible platforms that will light up at any given time. There are four possible patterns. Which pattern spawns between the four is completely random, and the same pattern may appear twice in a row.
Slime Feeding Tips
Caduceus frontal cone is HUGE. It can and will destroy you if you pass anywhere near his front. Approach him from the center as much as possible. Keep in mind Tailswipe exists, so the closer you are to his center, the better. While it seems safe to pass behind him, if you get slowed into a tailswipe, you're going to regret it.
Caduceus Pre-fight Preparation
Organize yourselves into two teams of 1 Tank, 1 Healer and 2 DPS.
What position do you guys use!? We will discuss that at the bottom of the guide. There are many possible positions, each with their pro's and con's.
Caduceus Phase 1 (Pre-Split) Phase
Caduceus hits hard. There's no way around that. It only gets worse for each stack he gains. So you must succeed at spawning and feeding each time the platforms light up. Each time you miss it, it means you have to get two slimes on the next glowing tiles. That can get messy quick, especially post-split phase.
Your primary goal in Phase 1 is to make sure Caduceus has no Stacks of Steel Scales shortly before he reaches 66% HP (when he splits in two)
How can you ensure that!? Our strategy here is to make him split shortly after the second slime. Save DPS cooldowns for after the second slime and melt him to 66% before he gains another stack. (At our current gear level it can be done after the first. So if your group lacks DPS, try to make him split after the third slime!)
Help! Our DPS is too fast/slow and he splits with a stack of Steel Scales! STOP DPS if you think he will split while he has stack. I'm not kidding. Stand and do nothing if you have to.
Got him to split without stacks? Good. Now on to arguably the most difficult part about Caduceus, the split phase.
Caduceus Split Phase (P1 – P2 Transition)
While not technically a phase, most wipes will come from "Messy splits".
Your ONLY GOAL in the next 5-10 seconds in this phase is to reposition the clone a fair distance away from the original. What could go wrong? Well….
Basically you want to maximize the chances that your off-tank picks up and settles into his new position. Everyone can do their part during this phase.
Melee DPS – Disengage the boss for a few seconds. Don't worry about lost DPS. Caduceus frontal cleave is insane, and will sometimes do it (or worse, Hoodswing / Whip Back) while splitting. It doesn't happen always, but it's best not to take chances. "But I'm losing DPS if i stop for a bit! I LIVE FOR THE PARSER!". You do zero DPS when you're dead, son. "He tailswiped while splitting! That Doesn't always happen!!!" You can't say we didn't warn you.
Healers – Do not apply HoT (Regen, Whispering Dawn, Medica 2) shortly before splitting. Virus helps, too. Make sure Stoneskin is up on the off-tank BEFORE the split.
Main Tank – Use a damage mitigation skill during this time. If healers heal you too much while this phase is ongoing, they will pull aggro.
Off Tank – Yep, the most stressful part of the fight for you. If you're in a PUG you're going to get blamed alot. Smack the clone with your best aggro generating skill and make him stick until you settle into your designated spot. Provoke, Tomahawk/Shield Lob are your friends here.
Caduceus Phase 2 (Post-split)
Both copies of Caduceus retain all the abilities from the Phase 1 (Pre-split). The clone hit exactly as hard as the original one. Hooray! And did I mention slime spawning and feeding continues in this phase, only this time doubled? Great! Also expect to see two to three times more random acid spitting!
Your primary goal in this phase is to DPS both of them as equally as possible.
The only new mechanic is that when both copies of Caduceus are brought near each other, or when one dies, the fight progresses into the Final Phase.
Caduceus Final Phase (Two possibilities)
Caduceus will enter the final phase if one of these two things happen:
They are moved too close to each other.
One clone dies.
Scenario 1 (Unfavorable): Aggro messes up and one Caduceus moves towards the original one, they combine. This will likely result in a Wipe
Scenario 2 (Emergency): You guys were Soooo clooose, but one of your tanks die, and Caduceus found his buddy. They combine (Total life equals sum of both HP)
Scenario 2 still sucks, but it's an "emergency plan" that happens more often than you think! We got our first kill on Caduceus in this circumstance. If this happens, you have to kill him quickly! This would be a good time to use DPS Limit Break. You have a limited time to kill him, as at any time he combines he will gain stacks extremely quickly, eventually one shotting your tank – and you.
Scenario 3 (Ideal) : One clone dies while the other is below 5%. All dps move to the remaining clone and kill him. You have a short grace period here before he starts going crazy with gaining stacks. Again, another good time to use DPS Limit Break, as there wont be any other chance to.
How to position in Caduceus
We haven't really checked other guides, but we get alot of messages asking for this because of the extremely confusing (or vague) positioning mentioned in other places. Here's our strategy…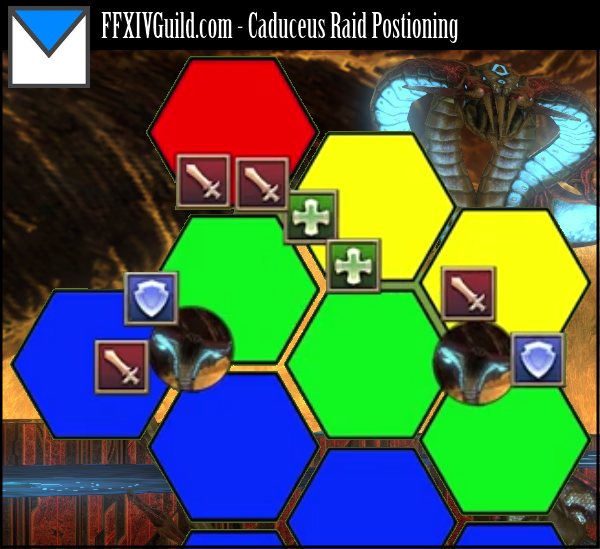 We ignore the South of the map completely, forcusing our entire group in the north.
Pros of our positioning Strategy:
– Healers can heal all members easily, and effectively assist each other.
– AoE heals reach everyone.
– All members have access to all pattern types.
Cons of our positioning Strategy:
– Our tight position makes acid spit a problem. It can get out of hand easily.
– More prone to AoE Damage.
– Little to no room for unnecessary movement.
Caduceus (Turn 1) Loot List
Well, that was long! It's still missing some parts, but hopefully we can complete it soon!
Follow us on
Facebook
for more FFXIV updates!